Manulife Critical Illness

For more information on Lifecheque Basic Critical Illness insurance and to quote and apply on-line click here.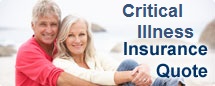 Manulife's Lifecheque Basic Critical Illness Insurance offers:
Coverage for 5 major illnesses including cancer, heart disease, stroke, aortic surgery and coronary artery bypass surgery.
Lump sum payments of $25,000, $50,000 or $75,000 with a Return of Premium option.
Coverage for applicants between the ages of 18 and 75.

Tags: manulife_critical_illness
Implementing a retirement, estate, and any other form of financial plan may consist of investing in mutual funds, insurance products (such as segregated funds) and other financial instruments. Prospective investors should always obtain a copy of the offering documents in respect of each investment product (such as prospectus, information statement or folder, insurance contract, etc.), and read it carefully, including discussion of any risk factors, fees, expenses, terms, conditions and restrictions. Consult your personal tax and legal advisor before investing.
HollisWealth®, a trade name of Investia Financial Services Inc.